Everything But The Gargoyle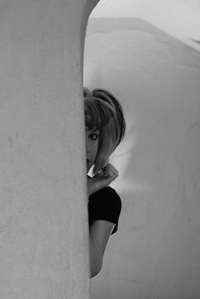 Everything But The Gargoyle is a collaborative recording project conceived in 2008 from the meeting of Forms Of Things Unknown and Pixyblink. Ferrara Brain Pan (aka Forms Of Things Unknown) had been harboring a desire to form some sort of darkwave duo for a number of years, and when he stumbled upon Pixyblink's MySpace profile while exploring G. James Wyrick's The Method Learned page, a soul spark was ignited and he knew at once that he'd met his muse. Ferrara made contact with the mysterious and alluring Kyra (aka Pixyblink), whereupon the two discovered a mutual eccentricity of vision along with a willingness to morph, twist and subvert convention. In view of the geographic distance between the two (Ferrara residing in San Francisco and Kyra in the southern California township of Fallbrook), a long-distance recording project (facilitated via the sharing of audio files over the internet) was proposed and agreed upon. Kyra has been no stranger to this method of working, having collaborated in such manner with dozens of like-minded ambient/experimental musicians in her extensive MySpace network.
With their four-song debut EP, entitled Four Flies On Grey Velvet, completed and scheduled for release in early 2010 on the Pimalia label, EBTG plan to begin work on a full album of original material. And after that, who can tell? An obscure/bizarro covers record? David Lynch soundtrack appearance? Song licensing agreement with the California Avocado Commission? It's anyone's guess.
"The Hum Of Blood" is an original musical setting of a poem by G. James Wyrick. Kyra and Ferrara are joined for this track by James Severance on guitar.
Visit Everything But The Gargoyle at MySpace or www.formsofthingsunknown.com/ebtg.