Mr. Leary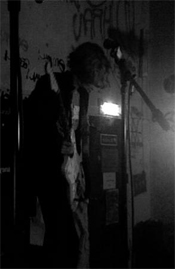 Mr. Leary is a Danish ambient duo. They released their debut album 'Patterns' in 2009 after a series of online EP's.
They have often (especially in their more turbulent/live material) been seen to use alternative ways of seemingly coming closer to their sometimes extremely hectic, yet surprisingly controlled sound.
One of their formidable forms of instrumentation is vacuum-cleaners, which with special technique, have been used to produce a sound reminiscent of a Didgeridoo. These sounds are then sent through dense live signal processing (a process likely inherited from their shoe-gaze history) and made sense/nonsense of, with further digital layering.
Live-collaborations with other Danish artists have occurred (Among others, members of Arhus/Copenhagen-based Shiggajon), but the duo seem to try and stick to their own visions in general.
Mr. Leary draws inspiration from the no wave scene in a continuous effort to make experimental music, and having fun doing it. The duo records all their music live with guitar and bass and improvise a lot in the process with very little editing used afterwards.
Visit Mr. Leary at MySpace.