My Boyfriend the Pilot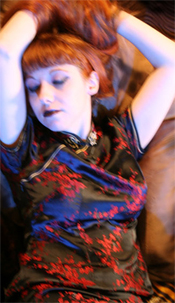 A recent transplant from Pittburgh to Chicago, Minmei Decelis brews homemade downbeat, moody, experimental laptop music in her apartment and sometimes a gallery, bar, or coffeehouse, sometimes alone, sometimes with friends. She likes to use sound to paint intense electronic performance ranging from hypnotic downbeat dance to abstractions both sweeping and somber.
Minmei does the composing, performance, and editing for My Boyfriend the Pilot. This electronic project started in the summer of 2000 as a general product of insomnia and depression. My Boyfriend the Pilot often fits into categories of sound with pioneering experimental acts like Throbbing Gristle, the Residents, Diamanda Galas and Caberet Voltaire, but in truth much inspiration in the production department also comes from equally noisy indiepop godparents.
One might ask - Where does the band name come from? The band name comes from an episode of the sci-fi animated series Robotech entitled "Miss Macross."
The majority of all My Boyfriend the Pilot's past releases have been self produced CDRs, with handmade covers. Auricular Records plans to release the latest title, Center of Changes, along with a boxed set of all the past recordings, live material, remixes and video during 2010. The boxset will feature special artwork and surprises.
You can visit My Boyfriend the Pilot at MySpace or at their website www.myboyfriendthepilot.com.
"I pursued abstract sound as a way to communicate emotions when I didn't feel like I had permission to use the words."
- Minmei Decelis -