Instagon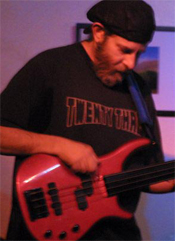 The project "Instagon" began in 1993 in Orange County, California. Instagon has since progressed into quite possibly the most unique and well documented audio experiment in the history of modern music.
Combining factors of improvisation and chaos theory, Instagon never performs with the same band members together for any one ensemble. This means that various players might play over and over again, but each grouping they are playing in will never be the same members. Since starting this open ended conceptual project, Instagon has played over 500 shows, and had well over 525 members, and continues to play regularly as a band on the scene....even though there is only one consistent band member, LOB.
In 2005, Lob and Instagon moved to the Sacramento region of California and began immediately to infect the local musical community with it's special blended virus of improvisation and fun. Since arriving, Instagon has been featured on local Public Access TV, performed numerous shows, had featured articles in both the Sacramento Bee, and the Sacramento News & Review, and in 2008 was Nominated for a Sacramento Area Music Award (SAMMIES)
Visit Instagon on MySpace or at Thee Instagon Foundation.
"No one in the band knows what I'm going to play next, I don't even know. I pick songs out of the whim of what I'm feeling at the moment."
- Lob -