Space Gambus Experiment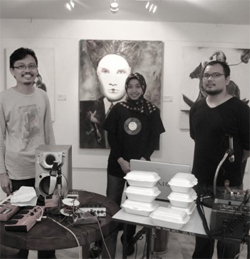 The Space Gambus Experiment are the result of a unique collaboration between musicians Mohd Zulkifli Ramli (Gambud/Oud) and Kamal Sabran (electro - acoustic). This blend of traditional and contemporary Malaysian music is also merged with radio waves received from the planet Jupiter.
Kamal Sabran is an artist, designer and researcher. His work stands at the intersection of art, science and technology. His paintings, video art, short films, sound art and installations have been shown at art spaces and festivals internationally. In search of ever widening means of artistic expression, Kamal constantly looks for collaborative opportunities with artists, poets, photographers, designers, musicians, filmmakers, researchers and scientists. He is based in Ipoh, Malaysia.
Gambus is not only a musical instrument. Malays also believe it acts as medicine to heal some health problems as well as soul and spiritual ailments.
Kamal Sabran was artist-in-residence for the National Space Agency, Malaysia in 2005. There, he conducted a research project called "Sonic Cosmic Music from Outer space" where he composed music based on cosmic radio waves collected by a radio telescope. He published the research as his MA thesis at University Teknologi MARA, Malaysia in 2007.
You can visit Space Gambus Experiment at MySpace or at Reverbnation.
I am soul-searching. I am energy, vibrating. I'm looking for other frequencies to connect."
- Kamal Sabran