Kwisp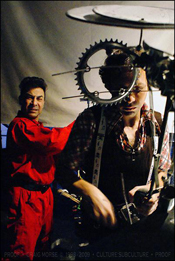 Kwisp is a San Francisco based musical group, started by musician and holographic movie pioneer Walter Funk. The instrumentation is unique, most of it built by the band itself.
Kwisp members Walter Funk & Lenny Bove first met through mutual friend Cork Marcheschi of experimental rock band Fifty Foot Hose. In 1995, when Marcheschi was asked to reform the Hose, many original band members were unavailable, so Walter and Lenny were asked to join.
Walter Funk plays surreal sound sculptures and custom electronic synthesis/sound transformation devices. He has worked with John Cage, Leon Theremin, James Goode, LX Rudis, Winston Tong, and Gong's Daevid Allen. He appears on five Mandible Chatter recordings and has performed with Daevid Allen live many times since 1991.
Lenny was a founding member of the late 70's punk/new wave group, The Peens. In 1981 when Pere Ubu's guitar player Tom Herman, Lenny, Tom and Rodger Prehoda started Tripod Jimmie. Lenny played electric bass and ran the controls on Jimmie, a tape machine mounted on a tripod with cassette loops playing. Later Lenny played in ?I am your Conscience? along with Tom, plus 3D Jesus, Little Batman and Fifty Foot Hose.
You can visit Kwisp at MySpace.