The Background Front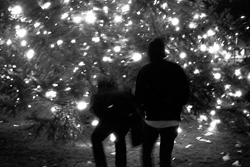 Hailing from the Pacific/Northwest of the U.S., this project is the spawn of Joshua James of the minimalist, ambient, folk group Letters together with Gumar of the near legendary Gumar and His Magical Midi Band which featured a breakdancing robot and members who became magical by dipping their cardboard instruments into a magical pond in the forest.
Joshua James has also played in the musical projects Sleep Together, Black Tail Dear and Gumar and his Magical Midi Band. For years he ran the non-profit publishing company SSO Press. He currently runs the cd/zine/tape/vinyl/handmade stuff distro Ms Valerie Park and puts out the zine Basic Paper Airplane.
The Background Front is an "electro-acoustic genre-hopping" project which features a multitude of guests and spans genres from trip hop and electronica to folk, soul, and ambient.
You can visit The Background Front at MySpace.
"More often than not music is just a background buzz to our busy busy days/nights..."
- Joshua James -