Giligadi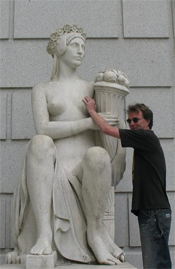 Giligadi began perpetrating guerilla sonic sculpture in 1989 using two cassette tape machines, countless hours of dubbing, and a chronic disregard for broadcast standards, among other things.
Over the years the equipment used to record and process the sounds has changed and evolved, but the ultimate goals have remained the same throughout: to map, capture, and present emotions in a sonic form; the destruction of platitudes; the pursuit of truth, such as it is. This is not, nor has it ever been, intended to be "easy listening" music.
Giligadi has, for the most part, been primarily a studio project. As such, he has assembled and self released 7 or 8 'albums' and countless other partially finished projects with various collaborators. One of those albums, "Fissures in the Faithful", was published in 1992 as a cassette only release by Auricular Records and was re-released in re-mastered form on the same label in 2009.
Giligadi is currently hard at work creating a new album (as yet untitled) exploring the idea and realities of Cult behavior, across all social and ideological spectrums.
You can visit Giligadi at MySpace.